Why you need SEO Services for your business ?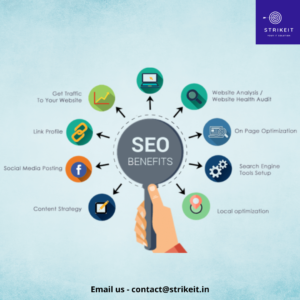 Gone are the days, when we go visit a website by typing www followed by a name that ends with .com or something like that. This is an era where all the knowledge there is, is accessible through internet. And How? They are just a click away. With all the today's advanced search engines, drowning us with information, there comes a need to find a way to get to people/business online who are genuine and serious about what they do and how they do it. But, to find and to be found on the internet among zillions of other websites, there should be time a saving tool that will give us what we need exactly on the internet. That tool is called search engine optimization.
The word optimization in simple terms is putting the best in use and thus getting the needed outcome. Yes! We connect the dots for you. In other words, with the technical know-how of how the leading search engines work, we help our clients to find their website online through search engines which will directly take the potential customer to the website, resulting in the growth of the business.
We, at StrikeIT,  one of the leading SEO companies in Lucknow, with a commited team of energetic people, put your business upfront where people can see and contact you easily online. Becoming search engine friendly requires having the ability to give the users a great experience so he or she might want to come back for more.  The user's rankings and experience are taken into account and the traffic of a website is determined accordingly.
One can imagine a search engine as a person with self-sufficient and evolving artificial intelligence. It read patterns, senses the flow of traffic, interprets data and information and does even more in order to give useful and expected results while a user/ customer is searching for a service or a product through keywords they search with in the search box of a search engine.  Strikeit, your online navigator and Search engine partner can take you to the right customers and business people allowing you to serve them.
We are one of the leading SEO companies in Lucknow, serving businesses and organisations by helping the same to achieve their business goals through using a seach engine optimised website for best visibility and access.
What is the price for not performing better in the search?
According to a famous Market and Consumer Data company, 4.5 billion people use internet and
almost 3/4th of them use internet to search about goods and services before they make a decision
on availing the same. It is no wonder the global corporate giants investing millions of money and
their valuable resources into being search-engine friendly. The crucial reason behind all this effort is
to be available online and continue to serve their clients and customers in a smart and swift way.
The other word for being better in the search is to be visible and accessible by the people looking for
the products and services we deal with. So it is a wise decision to move online with customised
search engine optimization allowing us to be found.
The time and resources we spend for being listed on the search helps the business to stay
predominant online and be available when people search about our products and services.
On-page SEO
This is one of the ways to optimising a website to increase the ranking on the search engine and also
to drastically improve the flow of traffic on our website organically. This is also called On-Site SEO.
It is basically fine tuning the words used, the images used and the links used on the website which
will in turn increase the visitors of the website organically. This also refers to the content on the
website. The content has to be high quality and very much relevant with perfectly suitable
words. We concentrate on headings, title tags and keywords used.
Technical SEO
As the name suggests, this deals with technically helping the website to be more recognisable by the
search engines and also improving the user experience in terms of speed and smooth crawl-through
and thus increasing the chances of being ranked better by the search engines. This unskippable part
of SEO also talks about the basic technical requirements that a website needs in order to be picked
up and understandable by the today's artificial-intelligence powered search engines.
In simple terms, the search engines consider the websites that has been optimised technically, so as
to make them rank and take into account whenever there is a search is done on the search engines.
To add more, the website has to have features like original and engaging content, structured
data, fast loading of pages and more.
Link building
This is a vital activity in the process of SEO, where we collect important links from other top notch
websites that will allow us to pass through the authority.
Why Link building:
1. This will help us get the attention of the search engines. Since the website is new, the links from
the old and strong websites will prove to be trustworthy and promote trust.
2. Replication of competitor's links can be a strategy in SEO, helping us to reach more people.
3. This is an off the website activity. This allows us to make our website be more reachable.
4. By linking the web pages, it is made easy to navigate and communicate with eachother.
5. Application of hyperlinks from the other websites will help us navigate from one web page to
another.
6. An information from the famous website is used by a new website through using their hyperlinks
using the link building tool.
Ecommerce SEO
A way that suits best for the businesses who want to take it to online and have an online store
where the transactions take place.
Why ecommerce SEO:
1. People search for things they like on the search engines. Unlike the traditional way of buying a
product or service from a physical store, this experience of making it ours just by paying for it at the
convenience of being wherever we are, is fascinating. So it is very likely to go for search engine
optimization when it comes to succeeding in the field of ecommerce.
2. Almost three forth of the online experiences come through search engines. And it is very often
that is converts into a sale. It is not just the product. But it's review, images, details and others offers
that are available online, making it a successful sale.
3. This activity comes under on-site SEO
Global and national SEO:
Global SEO focuses on a wider range of population giving the website a world wide reach.
Whereas National SEO which is also called as local SEO, is the optimization done to focus on a
limited geographic area which usually helps to communicate or market a product or service. Say, for
example, you own a physical store in your locality. And if your intention is to get the audience of
your locality to know about your presence and services of your store, the best to go with is the
national SEO.
The amount of content that you are going to need to do a global SEO is more than that of the
national SEO.
The cost involved for national and global are two different degree of expenses.
These two SEOs are country, Region, Language and sometimes product/service specific.